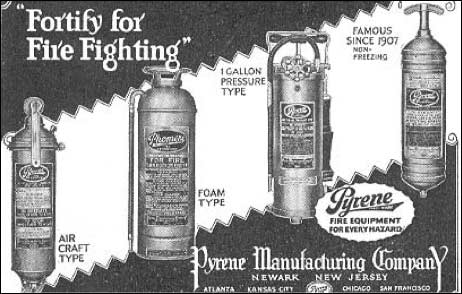 "The first fire extinguisher of which there is any record was patented in England in 1723 by Ambrose Godfrey, a celebrated chemist at that time. It consisted of a cask of fire-extinguishing liquid containing a pewter chamber of gunpowder. This was connected with a system of fuses which were ignited, exploding the gunpowder and scattering the solution. This device was probably used to a limited extent, as Bradley's Weekly Messenger for November 7, 1729, refers to its efficiency in stopping a fire in London.
The chemical foam extinguisher was invented in 1904 by Aleksandr Loran in Russia, based on his previous invention of fire fighting foam. Loran first used it to extinguish a pan of burning naphtha.[3] It worked and looked similar to the soda-acid type, but the inner parts were slightly different. The main tank contained a solution of sodium bicarbonate in water, whilst the inner container (somewhat larger than the equivalent in a soda-acid unit) contained a solution of aluminium sulphate. When the solutions were mixed, usually by inverting the unit, the two liquids reacted to create a frothy foam, and carbon dioxide gas. The gas expelled the foam in the form of a jet. Although liquorice-root extracts and similar compounds were used as additives (stabilizing the foam by reinforcing the bubble-walls), there was no "foam compound" in these units. The foam was a combination of the products of the chemical reactions: sodium and aluminium salt-gels inflated by the carbon dioxide. Because of this, the foam was discharged directly from the unit, with no need for an aspirating branchpipe (as in newer mechanical foam types). Special versions were made for rough service, and vehicle mounting, known as apparatus of fire department types. Key features were a screw-down stopper that kept the liquids from mixing until it was manually opened, carrying straps, a longer hose, and a shut-off nozzle. Fire department types were often private label versions of major brands, sold by apparatus manufacturers to match their vehicles. Examples are Pirsch, Ward LaFrance, Mack, Seagrave, etc. These types are some of the most collectible extinguishers as they cross into both the apparatus restoration and fire extinguisher areas of interest.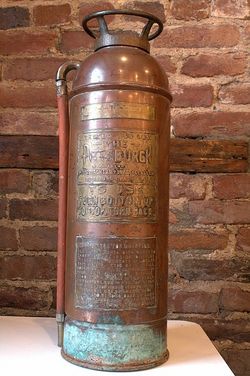 Another type of carbon tetrachloride extinguisher was the fire grenade. This consisted of a glass sphere filled with CTC, that was intended to be hurled at the base of a fire (early ones used salt-water, but CTC was more effective). Carbon tetrachloride was suitable for liquid and electrical fires and the extinguishers were fitted to motor vehicles. Carbon tetrachloride extinguishers were withdrawn in the 1950s because of the chemical's toxicity – exposure to high concentrations damages the nervous system and internal organs. Additionally, when used on a fire, the heat can convert CTC to phosgene gas,[7]formerly used as a chemical weapon.
In the 1940s, Germany invented the liquid chlorobromomethane (CBM) for use in aircraft. It was more effective and slightly less toxic than carbon tetrachloride and was used until 1969. Methyl bromide was discovered as an extinguishing agent in the 1920s and was used extensively in Europe. It is a low-pressure gas that works by inhibiting the chain reaction of the fire and is the most toxic of the vaporizing liquids, used until the 1960s. The vapor and combustion by-products of all vaporizing liquids were highly toxic, and could cause death in confined spaces.
The carbon dioxide (CO2) extinguisher was invented (at least in the US) by the Walter Kidde Company in 1924 in response to Bell Telephone's request for an electrically non-conductive chemical for extinguishing the previously difficult-to-extinguish fires in telephone switchboards. It consisted of a tall metal cylinder containing 7.5 pounds (3.4 kg) of CO2 with a wheel valve and a woven brass, cotton covered hose, with a composite funnel-like horn as a nozzle. CO2 is still popular today as it is an ozone-friendly clean agent and is used heavily in film and television production to extinguish burning stuntmen. Carbon dioxide extinguishes fire mainly by displacing oxygen. It was once thought that it worked by cooling, although this effect on most fires is negligible. This characteristic is well known and has led to the widespread misuse of carbon dioxide extinguishers to rapidly cool beverages, especially beer.

In 1928, DuGas (later bought by ANSUL) came out with a cartridge-operated dry chemical extinguisher, which used sodium bicarbonate specially treated with chemicals to render it free-flowing and moisture-resistant. It consisted of a copper cylinder with an internal CO2cartridge. The operator turned a wheel valve on top to puncture the cartridge and squeezed a lever on the valve at the end of the hose to discharge the chemical. This was the first agent available for large-scale three-dimensional liquid and pressurized gas fires, and was but remained largely a specialty type until the 1950s, when small dry chemical units were marketed for home use. ABC dry chemical came over from Europe in the 1950s, with Super-K being invented in the early 60s and Purple-K being developed by the US Navy in the late 1960s. Manually applied dry agents such as graphite for class D (metal) fires had existed since WWII, but it wasn't until 1949 that Ansul introduced a pressurized extinguisher using an external CO2 cartridge to discharge the agent. Met-L-X (sodium chloride) was the first extinguisher developed in the US, with graphite, copper, and several other types being developed later.
In the 1970s, Halon 1211 came over to the United States from Europe, where it had been used since the late 40s or early 50s. Halon 1301 had been developed by DuPont and the US Army in 1954. Both 1211 and 1301 work by inhibiting the chain reaction of the fire, and in the case of Halon 1211, cooling class A fuels as well. Halon is still in use today, but is falling out of favor for many uses due to its environmental impact. Europe, and Australia have severely restricted its use, since the Montreal Protocol of 1987. Less severe restrictions have been implemented in the United States, the Middle East, and Asia.
Most countries in the world require regular fire extinguisher maintenance by a competent person to operate safely and effectively, as part of fire safety legislation. Lack of maintenance can lead to an extinguisher not discharging when required, or rupturing when pressurized. Deaths have occurred, even in recent times, from corroded extinguishers exploding.
There is no all-encompassing fire code in the United States. Generally, most municipalities (by adoption of the International Fire Code) require inspections every 30 days to ensure the unit is pressurized and unobstructed (done by an employee of the facility) and an annual inspection by a qualified technician. Hydrostatic pressure testing for all types of extinguishers is also required, generally every five years for water and CO2 models up to every 12 years for dry chemical models.
Recently the National Fire Protection Association and ICC voted to allow for the elimination of the 30-day inspection requirement so long as the fire extinguisher is monitored electronically. According to NFPA, the system must provide record keeping in the form of an electronic event log at the control panel. The system must also constantly monitor an extinguisher's physical presence, internal pressure and whether an obstruction exists that could prevent ready access. In the event that any of the above conditions are found, the system must send an alert to officials so they can immediately rectify the situation. Electronic monitoring can be wired or wireless.
In the UK, three types of maintenance are required:
Basic service: All types of extinguisher require a basic inspection annually to check weight, externally validate the correct pressure, and find any signs of damage or corrosion. Cartridge extinguishers are to be opened up for internal inspection, and to have the weight of the cartridge tested. Labels must be inspected for legibility, and where possible, dip tubes, hoses and mechanisms must be tested for clear, free operation.
Extended service: Water, wet chemical, foam, and powder extinguishers require a more detailed examination every five years, including a test discharge and recharge. On stored pressure extinguishers, this is the only opportunity to internally inspect for damage/corrosion.
Overhaul: CO2 extinguishers, due to their high operating pressure, are subject to pressure vessel safety legislation, and must be hydraulic pressure tested, inspected internally and externally, and date stamped every 10 years. As it cannot be pressure tested, a new valve is also fitted. If any part of the extinguisher is replaced with a part from another manufacturer, then the extinguisher will lose its fire rating.



In the United States, there are 3 types of service:
Maintenance inspection: All types of extinguishers should be inspected at least once a year. The extinguisher is checked that it has the correct volume and pressure of extinguishing agent, that it is within the required hydrotest and internal maintenance intervals, that it is in good condition, and that all external parts are still serviceable. Dry chemical and dry powder types may also be hit on the bottom with a rubber mallet to make sure the powder is free-flowing. After inspection, the tech will attach a new tamper seal and yearly service tag around the pin.
Internal maintenance:

Water – annually (some states) or 5 years (NFPA 10, 2010 edition)
Foam – every 3 years
Wet chemical, and CO2 – every 5 years
Dry chemical and dry powder- every 6 years
Halon and clean agents – every 6 years.
Cartridge-operated dry chemical or dry powder – annually
Stored-pressure dry chemical mounted on vehicles – annually

The extinguisher is emptied of its chemical and pressure to check for proper operation. All components are disassembled, inspected, cleaned, lubricated, or replaced if defective. Liquid agents are replaced at this time, dry agents may be re-used if in good condition, halon is recovered and re-used, but CO2 is discharged into the atmosphere. The extinguisher is then re-filled and recharged, after a "verification of service" collar is placed around the cylinder neck. It is impossible to properly install or remove a collar without depressurizing the extinguisher.
Note: Cartridge-operated extinguishers should be visually examined, but do not require a verification of service collar.
Hydrostatic testing: Water, foam, wet chemical, and CO2, every 5 years. Dry chemical, dry powder, halon, and clean agents, every 12 years.

Note: these are the required intervals for normal service conditions, if the extinguisher has been exposed to excessive heat, vibration, or mechanical damage it may need to be tested sooner.
The agent is emptied and depressurized and the valve is removed. After a thorough internal and external visual inspection, the cylinder is filled with water, placed inside a safety cage, and pressurized to the specified test pressure (varies with the type, age, and cylinder material) for the specified time period. If no failure, bulges, or leaks are detected, the cylinder passes. The cylinder is then emptied of water and thoroughly dried, and labeled with the test date and company that performed the test. CO2 types have the test information stamped on the cylinder, all other types get a sticker on the back of the cylinder. Once dry, the units are recharged. Unlike the UK, the US does not rebuild extinguishers and replace valves at specific intervals unless parts are found to be defective, with the exception of halon. Halon types are often given new o-rings and valve stems at every internal maintenance to minimize any leakage potential.
OEM equipment must be used for replacement parts for the extinguisher to maintain its UL rating. If parts are unavailable, replacement is recommended, keep in mind extinguishers have a projected service life of about 25–35 years, although many are of such quality that they can outlast this, but realize that science is ever-changing, and something that was the best available 30 years ago may not be acceptable for modern fire protection needs."
Source: